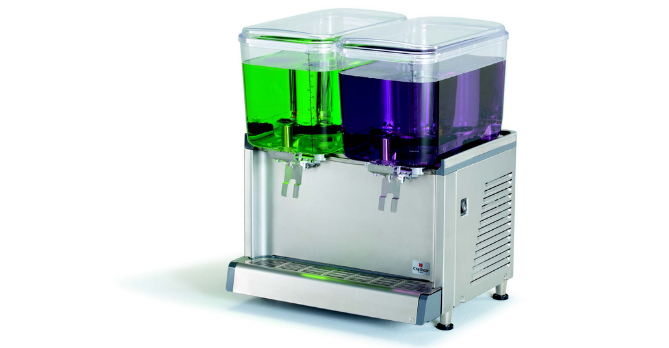 Simplicity bubbler cold beverage dispenser Model CS-2D 22, 2x18 litre bowls with agitator and stainless steel panels.
An easy to use unit that delivers two flavours ideal for use with fresh juice, iced tea and chilled products. Less time and effort is required for cleaning and disassembly.
The perfect solution to fit your business needs and drive profits.
$2,645 Price plus GST & freight
For freight costs or multiple unit quotes please click below

Simplicity Bubblers Cold Beverage Dispensers 2x18 litre bowls key features :
Two flavours agitator model ideal for fresh juice, iced tea and chilled products with minimal foaming system.


Unique to the Simplicity range; the air intake is from the bottom of the unit and exhausts to the back providing an efficient cooling system which means less energy and saves money.


New easy-off bowl release system for faster and easier assembly and disassembly. No more reaching into the bowl to remove bowl.


Cup clearance of 22.9cm


Compact: (W,D,H cm) 52,45,70


Fewer removable parts to simplify cleaning and reduce maintenance.


Designed to dispense product to the last drop.


Temperature range from 1.7 to 5°C