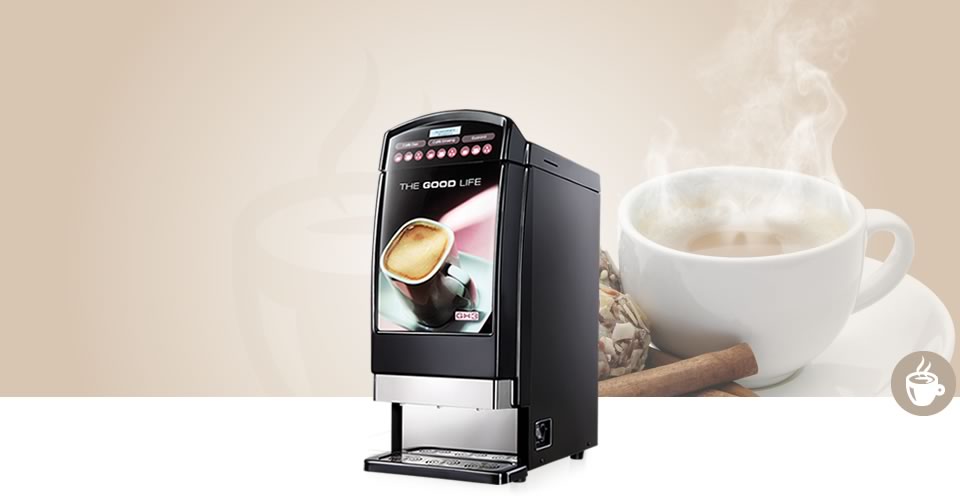 Enjoy the hot beverages produced using the GH3 model!
Ideal for small to medium sized accommodation facilities, as well as for bars, cafeterias, highway stops and restaurants. Barley, ginseng, guarana, chocolate and much more: just choose the combination you prefer!

It is the perfect solution for customers who want to have a single machine dispensing three different beverages. This allows for the expansion of the product range, as well as sales. The operator can choose between a large cup and a small cup; the machine is equipped with a system warning the user when water in the tank has reached the 0.5 litre level.
The SPM GH3 features an elegant design,combining black and steel, while the delivery compartment is illuminated by a red LED light. Water filling is manual, while mixer rinsing is automatic. Like all the machines of the GH series, it is equipped with an anti-scale filter, which has an expected life of 900 litres; an internal device sucks any steam, to preserve the quality of the soluble products inside the bowl. We can optionally activate a chip card system for consumption monitoring. All the components which are in contact with the product can be easily removed and cleaned.
During operation, a device will display the following warnings and information:
• water level too low;
• flavour being delivered;
• cleaning required;
• heating stage;
• expired credit, if the machine is equipped with the chip card system;
• filter replacement required.
| | | |
| --- | --- | --- |
| Technical data | | GH3 |
| Soluble powder containers | num | 3 |
| Capacity per each container | g | 500 |
| Mixers | num | 3 |
| Flavours | num | 3 |
| Selections | | Small/large cup |
| Water tank | 1 | 3 |
| Water filling | | Manual |
| Dimensions (WxDxH) | cm | 27,6X45,8X63,3 |
| Net weight | kg | 19 |
| Standard voltage | V/Hz | 230/50 |
| Absorption | Watt | 1400 |
| Standard colour | | Black |
| Machines per pallet | | 10 |
| Pallet dimensions | cm | 80X120X160 |
| Pallet gross weight | kg | 210 |
| | | |
| | | |
| | | |
| | | |